Photographer speaks out against allegations - thesuntimesnews.com
---
Photographer speaks out against allegations - thesuntimesnews.com
Posted: 18 Sep 2019 12:37 PM PDT
| 3 min read | by Lonnie Huhman | lhuhman@thesuntimesnews.com |
In the wake of Dexter-based photographer Robert Bowden being accused of engaging in inappropriate interactions with young women, including teenagers and Dexter Community Schools' students, The Sun Times News reached out to him on Sept. 17 with the following questions and received these answers on Sept. 18 through his attorney William Amadeo via email.
You can find the DCS letters here: Dexter Community Schools bans local photographer.
STN: Why do you believe you are being accused?
BOWDEN: I'm sure that the copyright infringement case is a driving factor. I opened up two different copyright infringement cases that had to do with people at Dexter about my photos being used in conjunction with defamatory statements being made about my profession. Before these allegations were made, Dexter and myself were having discussions about copyright infringement of my work.
STN: How did it get to this point?
BOWDEN: I would like to know that myself.
STN: What type of work have you done for the district?
BOWDEN: Since 2011, I have provided sport and event photograph for Dexter Community Schools. This includes photographing sports teams, action photograph for the school yearbook and for parents to order prom, homecomings, graduation and other school events. I have longstanding relationships with many of the Dexter teams and parents who know me very well. For the past 8 years my work has been featured around town and even a few of my images are in the high school cafeteria wall mural. My work has been featured in the Dexter Chamber of Commerce publications and on the Dexter Community Schools websites.
STN: Do you have evidence of wrongful accusations you would share?
BOWDEN: I do but my lawyer will not allow me to share such.
AMADEO: If criminal charges are falsely brought against my client we will be sharing a lot of things. Some of this may end up in civil litigation if Rob takes my advice and sues Dexter but at this point Rob is still shocked by these allegations and still loves Dexter. I don't share the same admiration due to the acts of Eric Delaporte (attorney for Dexter schools).
STN: As the district states, why did you walk away from the investigative interview with the district?
AMADEO: That is funny. Another lie by Eric Delaporte. I had my client walk out because every time my client tried to answer a question Eric Delaporte would cut Rob off. It's amazing how Delaporte is attempting to twist the facts.
STN: How is this affecting your life and livelihood?
BOWDEN: Due to these allegations my life has been shattered and my career has faced major setbacks. I have received threatening phone calls and have fear of even walking down the street in Dexter. I'm shocked because so many of the powers that be told me this was a huge misunderstanding and now they have lied about me in the press.
STN: Do you truly want the young women who made accusations to take a polygraph?
BOWDEN: I do not want to have anybody have to go through what I am having to endure. With that stated, if I'm going to be falsely accused of something, I do feel that whomever is making the allegations should also be subjected to a thorough investigation.
STN: Do you have any policies in place when you are doing photo shoots with minors to ensure their safety?
BOWDEN: I have multiple policies in place to protect not only minors but all of my clients.
Any time I am photographing an athletic team there is always another adult such as a coach present. Often a parent or two are also there from the booster clubs. There is never any one on one contact with a student during my school photoshoots. I also do not put my hands on students during photos, but have one of their team mates help fix their hair for example.
My policy is that for anyone under 18 to have a parent or guardian with them for any photoshoots. Both the parent and student sign a service contract and photo release.
Anyone over 18 is always welcome to bring a friend or family member to any photography session.
My studio is equipped with security cameras-We have offered to display video footage but there seemed to be no interest from Dexter.
STN: Is there anything you would like to say to those who have made these accusations?
BOWDEN: I'm just shocked by the wild allegations that have been made. To see your life destroyed with false allegations by a community and school that you love is heartbreaking.
STN: What's next for you?
BOWDEN: Clearing my name and serving my clients. I still have a client base that believe in me and know these allegations are false. I will work hard for them and continue my career.
STN: Is there anything you would like to say that I haven't asked about?
AMADEO: My client has passed a Neil Myres polygraph and is willing to take a Michigan State Police test. When this was presented to Eric Delaporte he stated how he has been trained to beat polygraphs and he put no stock in polygraphs. That is an insult to the Michigan State Police Polygraph Unit and to Neil Myres. We have offered hard copies of everything requested, we have stated that we have videos of all parties that come in for security measures and we did pass a polygraph. Guilty people don't pass polygraphs, lawyers that have no case leak lies to the press.
My Polygraph Exam Was Inconclusive. Now What? - Ask CJ - ClearanceJobs
Posted: 02 Mar 2019 12:00 AM PST
Much about the clearance process resembles the Pirate's Code: "more what you'd call guidelines than actual rules." This case-by-case system is meant to consider the whole person, increase process security, and allow the lowest-risk/highest-need candidates to complete the process. However, it also creates a  lot of questions for applicants. For this reason, ClearanceJobs maintains ClearanceJobsBlog.com – a forum where clearance seekers can ask the cleared community for advice on their specific security concerns. Ask CJ explores questions posed  on the ClearanceJobs Blog forum. 
In a process rife with mystery, snafus, and frustrations, one enigma reigns truly supreme: the polygraph examination. While not all cleared personnel are required to take a polygraph exam, those applying to work in the intelligence community often must face the machine. But like so many other parts of the clearance process, the polygraph exam isn't a cut-and-dried science. And despite what the movies might tell you, it's not a lie detector test.  Many applicants do not receive a simple "pass" or "fail." The test can be "inconclusive." That's where this week's Ask CJ takes us.
So today was a loooooonnnnggggg day… I had my Psych/Poly today.

I failed the Poly (which I knew was going to probably happen)… the good thing is, I know when exactly I'm going back. The bad news is, I was nervous the entire time and the examiner kept trying to something out of me.

It's a full scope CI/personal… the examiner said I was all over the place on both parts.

Is that normal? What's the most you can take it?
This is a common scenario. But before we tackle this, it's helpful to understand what the polygraph exam actually consists of.
So What Does the Polygraph Actually Do?
If you're looking for an excellent primer on the security clearance polygraph exam, check out a ClearanceJobs resource called, "5 Rules for Taking a Security Clearance Polygraph." It gives an easily digestible explanation of what the polygraph measures, common misconceptions, and guidance on how to take the test effectively.
As the paper explains:
The exam consists of:

Pre-Test Phase: Meet your polygraph examiner and ask any questions. Fill out a consent form and receive notification of your rights. Review all questions before the test starts. This is your chance to make sure you understand the questions, and that you're able to provide accurate answers—use it!

In-Test Phase: After being hooked up to monitoring equipment, the examiner asks all questions and analyzes the results, which are fed from the sensors on your body into a laptop.

Post-Test Phase: If the test is inconclusive or deception is detected, you may be asked followup questions, or "problem" questions may be rephrased. You will not be notified of your results on the spot, but they will be reviewed by another examiner and you will be contacted later with the results.
One key takeaway to remember is that the exam is not a lie detector test. It measures your physical responses to factual questions; increased heart rate, increased respiration or perspiration can indicate evasiveness, nervousness, or deception.
However, heightened physical response in itself is not an indicator of deception. People get nervous during the test, could be having a hard or irregular day, or could be responding to confusing questions. This can often result in results being declared inconclusive – like the user above experienced. An inconclusive polygraph exam is not usually in itself cause for clearance denial. Polygraph administrators will often re-phrase questions if they are receiving inconclusive responses during the exam. If it's declared inconclusive after the fact, the test will be re-administered.
How can I avoid an inconclusive polygraph exam?
First thing's first: Just live your day as you normally would. Make sure you take all your regular medications, exercise as you normally do (or don't!), make sure you eat before the exam. The idea is that you want to keep your body's physical routine normal so it will not produce irregularities during the test.
Also, don't be a "Guilt Grabber." Oftentimes, some of the most reliable people receive inconclusive results on the polygraph exam. This comes from an overly-developed sense of guilt or nervousness. For example, if the administrator asks you if you've used drugs in the last 7 years, snorting Pixie Sticks in high school doesn't count.  Just answer the questions honestly and simply. Don't over-volunteer information.
Remember, part of the exam is meant to ensure that the information on your SF-86 is honest and complete. Administrators depend on a level of intimidation in order to make that happen. "My professional opinion is that the government's real motivator for use of the polygraph is scare value," said Sean Bigley, national security attorney and managing partner of Bigley Ranish LLP. "The polygraph is more about getting scared people to admit what they would have otherwise omitted on their SF-86 than it is about actually digging up deception independently. Bearing that in mind, here is the reality: the scare tactic works subconsciously
on many people." Don't let it work on you.
If you're concerned about taking your polygraph exam for the first or second (or third) time, 5 Rules for Taking a Security Clearance Polygraph is an invaluable resource. You will learn more about what to expect, how to prepare, and perhaps most importantly, how not to prepare.  You can also post your questions or concerns on ClearanceJobsBlog.com.
Let Every Ghanaian Politician Participate In Lie-detector Or Polygraph Test - Modern Ghana
Posted: 06 Sep 2019 12:00 AM PDT
There wouldn't be any Ghanaian politician who will pass a lie-detector or a polygraph test when it comes to corruption in the country. If the Parliament passes a bill making it compulsory for every Ghanaian politician and heads of governmental institutions to undergo a polygraph test, everyone will fail the test in the country.
Why a lie or a polygraph test is necessary for Ghana? Since the best lucrative business in Africa is politics, it is in the interest of people becoming politicians just to amass wealth, the reason corruption in African countries, including Ghana, is an incurable disease.
The worse part of this problem affecting the common Ghanaians is: no Ghanaian politician wants to be responsible for frauds, embezzlement or any financial malpractices in the country, yet they are those who have access to steal from government coffers, not the common Ghanaian.
Politicians come and go with promises to fight this cancerous disease without a solution because soldiers, judges, policemen, government officials, doctors, and nurses, are all involved. Without paying a bribe, you may be denied proper healthcare, employment, education, justice, etc, in Ghana.
Corruption is also the fact that the regimes in Africa are often based on the greed of an immovable and omnivorous political class, like in Ghana, a political class made up of offspring of ministers, sister-in-law, cousins, sisters, brothers of generals who always make themselves more demanding, thus, the president and all his entourage are deeply associated with corruption.
Some years back, when technology wasn't yet ripe, solving crime cases were difficult and painstakingly slow, since the birth of modern technology, DNA examination or genetic fingerprinting based on the investigation of crimes have exposed criminals, murders and have sent criminals who have committed crimes decades ago to prisons.
If Ghana has become a corruption-infested country, yet no one wants to be responsible for the crime he commits, then the Ghanaian government should really convince ordinary Ghanaians that they are doing what they promised them, by implementing a law to enable every Ghanaian politician to participate in a compulsory polygraph test every year to fight against corruption in the country.
The Ghanaian government should find ways to stop the looting of state treasures and funds from foreign countries for developmental projects, including, health, education, and services in Ghana.
The principle of the polygraph test based on an analysis of the physiological reactions of the body will expose all corrupt officials in Ghana. DNA and polygraph test have solved thousands of crimes and financial frauds, therefore, let the Parliament impressed Ghanaians with such law to replace your bogus and deceiving fight against corruption in the country.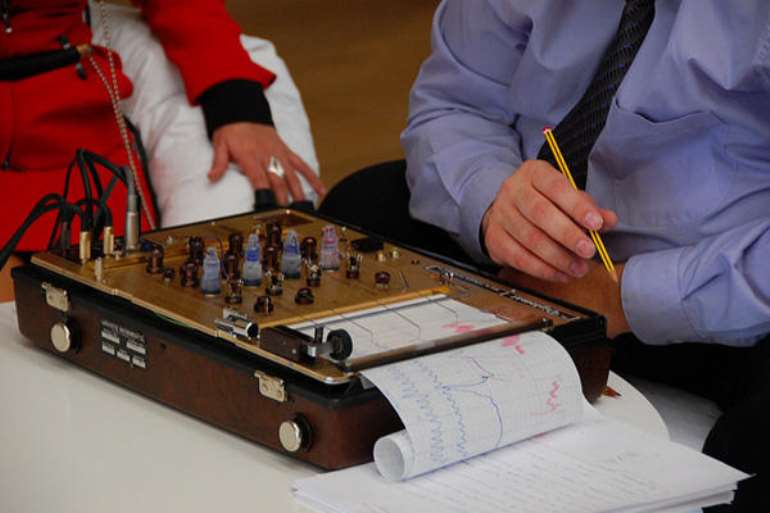 No one can underestimate a polygraph test, before passing the test, sensors are carried out on the human body n those places where it is easier to catch a change in the rhythm of respiration, pressure, the level of the electrical resistance of the skin, and an increase in muscle tremor.
After connecting the meters, the subject is asked questions. If a person lies, then his psychophysiological reactions of the body will unconsciously intensify. At the end of the test, the result will determine if whatever you said are based on lies or the truth.
The common Ghanaians are suffering, the unemployment rate keeps rising and the economy bites harder, yet corruption has no limit in Ghanaian politics. Pass the polygraph test bill, as soon as possible, Mr. President, if you are not corrupt.